HEART HALF BLACK
AVAILABLE NOW
Every choice is a compromise. And every compromise changes who you are. For the better. Or for the worse.
After body parts wash ashore in Florida, Det. Becker Gray finds himself interviewing a killer who holds information that stretches far beyond this investigation.
And he'll share it with Gray … for a price: a promise.
A choice, a compromise, a change that may turn his heart black.
This is the 4th installment of the BECKER GRAY Series.
Click here for more HEART HALF BLACK info.
View the trailer.
P
---
P
LAUNCH PARTY
Please join the celebration, if you can.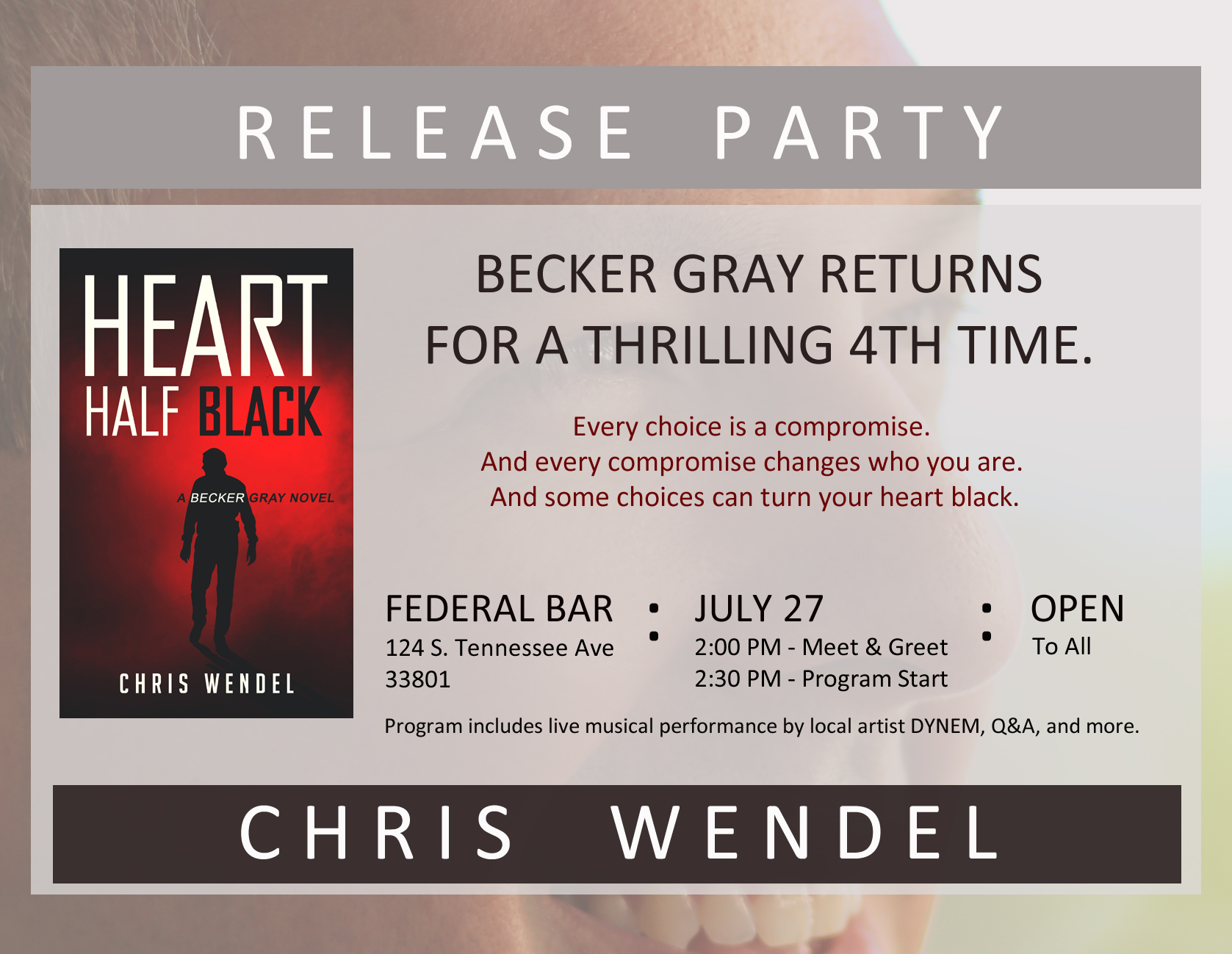 P
P
---
P
STAY IN TOUCH
Sign up for NEWS about BOOKS, AUTHOR, EVENTS, and MORE | Sign Up
P
---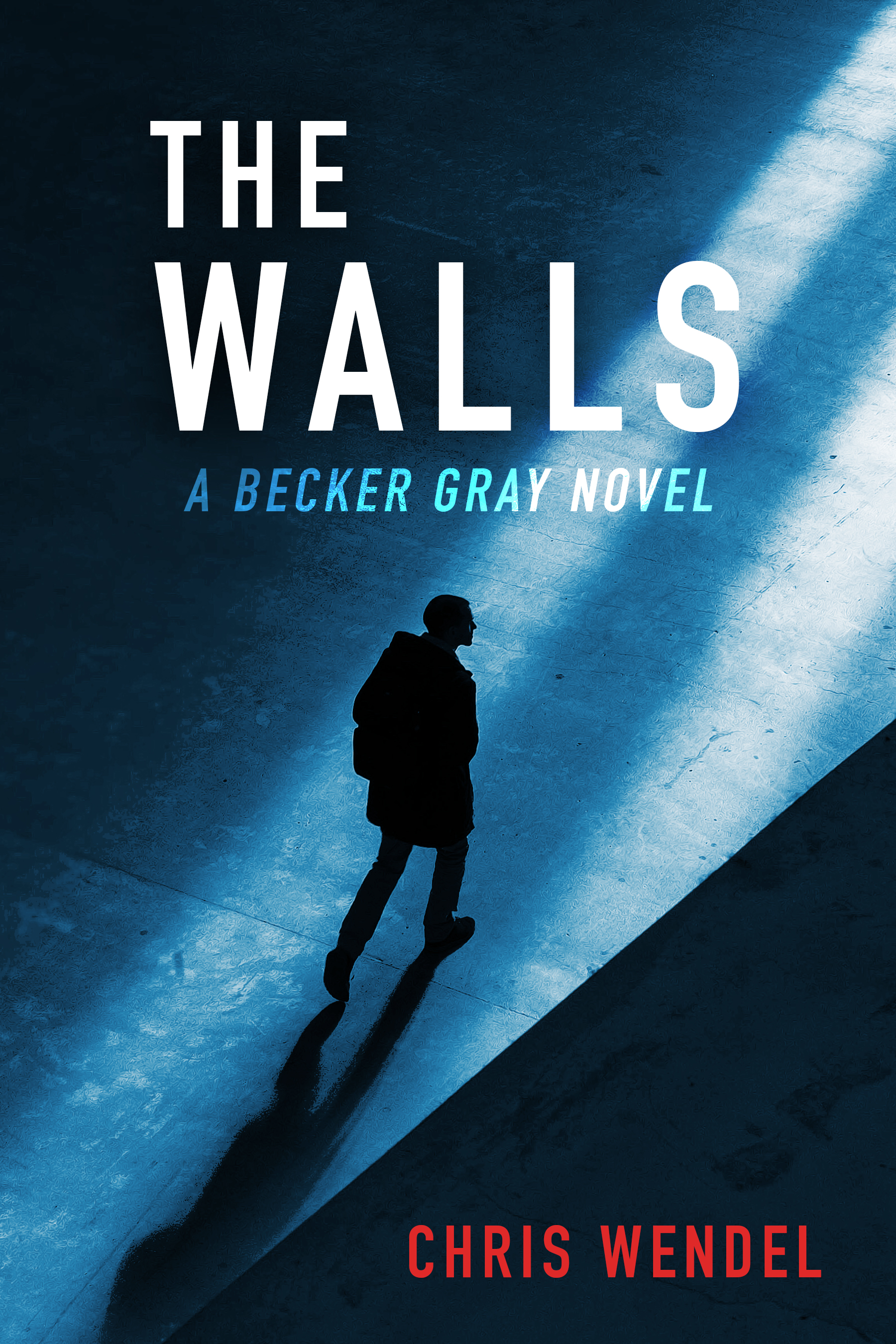 THE WALLS
March, 2019: Named as OFFICIAL SELECTION in the Thriller/Suspense category of the 2018 New Apple Book Awards for Excellence in Independent Publishing | Info
March, 2019: Beat out over 1100 entrants to reach the SEMIFINALIST round of the ScreenCraft Cinematic Book Awards | Info
Click for more THE WALLS info.
P
P
---
P
HUMAN AFTER ALL
August, 2018: Named SOLO MEDALIST WINNER in the New Apple Literary 2017 Summer eBook Awards' Thriller/Suspense category | Info 
Click here for more HUMAN AFTER ALL info.
PP
P
---
P
CHRIS WENDEL
CHRIS WENDEL is the author of two thriller series – one based on Detective Becker Gray and one on gun-for-hire Tony Mason. Chris, as well as his books, is glued to Florida, where he lives with his family. He is a graduate of the University of South Florida and holds degrees in English and IT. Chris is a fervent soccer fan and lover of blues-based music. His books are meant to entertain and perhaps show a little about the human experience.
Click for more CHRIS WENDEL info.
P
---
P
ONLINE STORE
Get Autographed Copies of Books by Chris Wendel 
Plus:
Cups | iPad Cases | iPhone Cases | T-shirts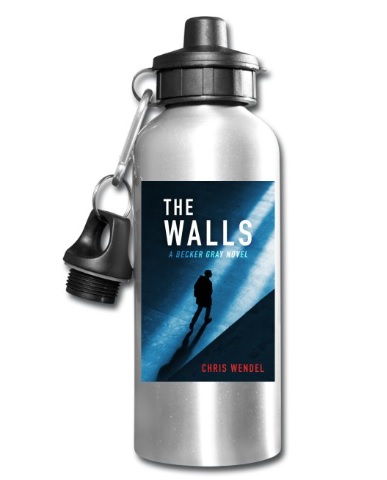 P
---
P
MORE
Support Local Bookstores     |     Book Clubs
P
---
Extra special thanks to Dual Brain for all their web expertise and generosity.
---
© 2017-2019 Holden Publishing, Inc.
---
---