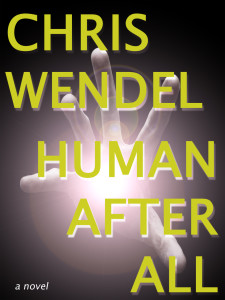 SUMMARY
After ten years in hiding, Valerie Hardy decides to fight back against the man who has terrorized her since she was eight years old. However, she has no idea how many different evils exist in the world.
Detective Becker Gray, in searching for a now-missing Valerie, has his life of indifference and detachment torn open for all to see. His pain (and the investigation) spirals out of control when the man who has terrorized Valerie turns his attention to Gray.
The thrilling culmination of events pushes Valerie toward her own inner darkness and nearly breaks Gray's already fragile state of mind. Valerie and Gray find the demons and monsters that chisel away at their lives prove quite simply to be human after all.
---
LEARN MORE ABOUT THE NOVEL
To mark the three anniversary of Human After All, Chris answered some common questions about the book that he's received from fans who wanted to learn more about the book.
– When did the work on the novel begin?  The work on Human After All began during right before my son was born in 2000.  I had the idea of exploring how far a father would go to protect his child.
– Did you base the character Becker Gray on anyone you know?  Early character development of Detective Tom Gray borrowed heavily from the character Andy Sipowicz from NYPD Blue.
– If Human After All was made into a movie, who would you cast as Valerie Hardy?  She may have aged out of the role, but when I was writing the book I imagined Emma Stone as playing Valerie.
– Why did you choose to set the novel in Lakeland, FL.?  Because of the old saying "Write what you know."  I didn't "know" detective policies and methodologies; I didn't know bad guys and their psychology, so I had to research that stuff and apply it where necessary.  What I didn't want to have to learn was a location.  Setting the novel in Lakeland, where I've lived most of my life, allowed me to worry none about the locale.
– If you started the book in 2000, why'd it take so long for it to be released?  At the same time I began working on the book, my son was born, I got married, started an IT consulting business, got divorced, remained an active father, and remarried.  A lot of life happened while I wrote that book.  I finally decided I had spent 12 years on it.  I needed to be done with it, so I could move on to the other story ideas in my head. 
– Any regrets about the book or story?  No regrets.  Never regrets.  I learned a lot from that book and the publishing process.  I wish I had hired an editor to clean up the typos and catch a couple consistency issues I've since found in the book.  I spent so much of my time working on the novel, I didn't want anyone else to be a part of it.  I wanted it to be totally mine.  For what it's worth, I edited the book, developed and created the book cover, etc. etc.  I wanted to own everything about that book.  Twelve years is a big chunk of my life.  But all in all I'm very proud of the novel.  I love the story.  I enthralled with the character Becker Gray and think he has so much to explore as a character.  So many doors to open.  I'm excited about his future.
– What can we expect from Gray #2, from a character perspective with Becker Gray?  I'm not going to say much, except in Gray #2 Gray seems to be handling his daughter's much better than in Human After All.  I think through that process, he's able to continue on his character arch of reversing his detachment from being human.  Maybe it leaves him open to other aspects of humanity.  I hope.  But you never know.