– HEART HALF BLACK –
AVAILABLE NOW

After body parts wash ashore in a tranquil Florida beach town, investigators quickly identify the killer, Kenneth Lamont Duncan. However, Duncan won't talk to anyone but Detective Becker Gray.
Duncan's demand seems bizarre. It's been seven years since the two men spoke or were even in the same room together. And Gray hardly remembers the specifics of that encounter.
In the fourth installment of the Becker Gray series, the detective's interview with Duncan winds through the killer's seemingly tenuous grip on reality. Truth morphs into lies. Clarity fogs. And the men's differences become their commonality. All part of Duncan's plan: manipulation of the information, the promise Gray pledges, and even the bloody ending.
p
Buy Now
Autographed Copy
Paperback

eBook
P
WATCH THE TRAILER
PP
---
P
– THE FATE OF LEAVES –
Available Exclusively on Amazon in eBook and Paperback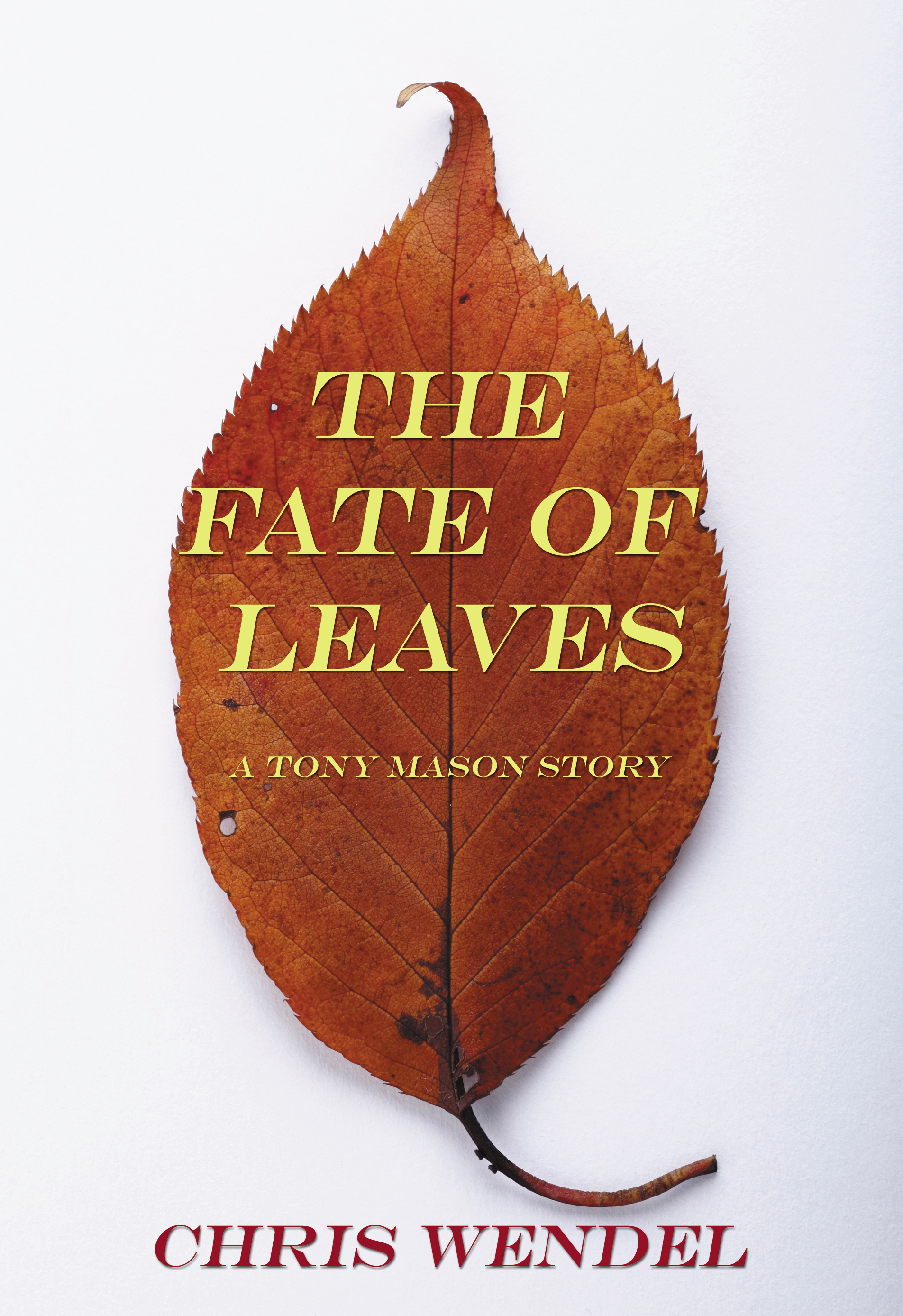 CAN PEOPLE CHANGE THEIR NATURE?
After his family is murdered by a Mexican drug cartel, gun-for-hire Tony Mason finds himself in a desperate mission to find meaning and purpose in his work. He learns of Griffin Lattimer, who is the main suspect in a murder investigation in Thomasville, Georgia. And, it appears as if Lattimer will get away with the crime. The victim's lover – Meghan Kirklin – knows he's the killer and so do the police, but Lattimer has a solid alibi.
Mason and Kirklin forge an unlikely partnership based on their collective desire to see Lattimer dead. Together they help the other through the loss of their loved ones. They find meaning. And they confront Lattimer in a dramatic ending that pushes the boundaries of what they each believe to be their inner sense of good and evil.
P
Buy Now
Autographed Copy
Paperback

eBook

P
WATCH THE TRAILER
P
---
P
– THE WALLS –
WHAT WOULD YOU DO FOR A FRIEND?
Detective Becker Gray doesn't have many close people in his life. There's his partner, Jeffrey Parker, and Morgan Beringer, the mayor's wife. In his own emotionally-detached way, he treasures both. Yet, when Morgan and her husband are murdered, he doesn't know what to make of his sense of loss and he doesn't lean on Parker for friendship.
Besides, there's no time to do so anyway because there are more dead bodies stacking up than the city can handle. First, a fire fighter is gunned down in broad daylight. Then eight members of a powerful, local gang are killed. Gray discovers all these murders are connected by ties to a Mexican drug cartel, police corruption, and even state attorneys tampering with cases. For Gray, though, these connections only serve as distractions to his main goal of finding Morgan's killer.
Even his only remaining friendship is a distraction. Parker is instead simply another tool Gray uses to corner the murderer.
Gray puts his life and career — and that of his partner Jeffrey Parker — on the line in THE WALLS. He faces his most savage nemesis in this exciting, quick, and breath-catching novel that will leave his professional life and the police department in tatters and upheaval.
BOOK CLUBS
Discussion questions for THE WALLS
p
READER PRAISE
– "This book was a great read from beginning to end.
I flew through this book and was engrossed in every chapter,
and loved following along with the story line and the crimes
that were being committed." –
A review by professional book reviewer Michelle MacDonald.
Read the whole review here and be sure to check out the rest of her book reviews.
P
– "Chris Wendel shows great skill in storytelling and character development." –
Read the whole review at Readers Favorite Book Reviews.
P
– "Wendel has come up with another Lakeland based thriller.
It is hard to imagine the terror that could come to a small family community.
Chris brings the bad guys to a crashing end and re-ignites the human in his protagonist Becker Gray." – D. Clarke
P
– "The Walls by Chris Wendel is a riveting mystery set in the familiar town of Lakeland Florida.
I love how the reader gets to see and understand the perspective of both the protagonist and antagonist.
The story takes you on a journey of intrigue and suspense.
The story hooks you from the beginning and keeps you engaged till the end.
If you love mysteries, like those written by James Patterson or Dot Hutchison then you will love Mr. Wendel's books.
I would highly recommend The Walls to anyone who likes to read mysteries.
Thanks for a great read." – D. LeGrant
P
– "Awesome book! AMAZING read!!
Once I started reading "The Walls" I didn't want to put it down until I'd finished. (This has been a true statement for the previous books in the Becker Gray series as well)
This mystery/thriller was addicting and there never seemed to be a time to stop reading because the suspense was so intense.
This is on my list of books that keep me up at night because I cannot stop reading!!
The short powerful chapters are perfect for this type of book.
Excellent characters and settings throughout the entire book.
Being a Lakeland FL native, I loved reading the local street names and known places of business.
"The Walls" is a very well written book full of suspense and drama and I recommend this book and series to any adult who enjoys the mystery/thriller genre." – A. Tate
P
– "I just want you to know that 'Human After All' was a great book.
I just received your new book 'The Walls' from Amazon, and read it in two days!.
You have developed a very likeable character in Becker Gray and I cant wait to see what you have coming next.
My wife is reading "Human After All" now and is enjoying it also.
You have made a fan out of me, – Keep the books coming!!!" – W. Thompson
P
– "I was on the edge of my seat from start to finish!
There were so many unexpected plot twists that kept me from putting it down.
With so many story lines and action-packed pages, it left me wanting to read it again and again.
I felt invested in these characters and found myself cheering for their survival. " – H. Lopez
Buy Now
Autographed Copy
Paperback
eBook

P

P

P
P

P

P

P

P

P

P

P
WATCH THE TRAILER
p
---
P
– WHISPERING OF ECHOES –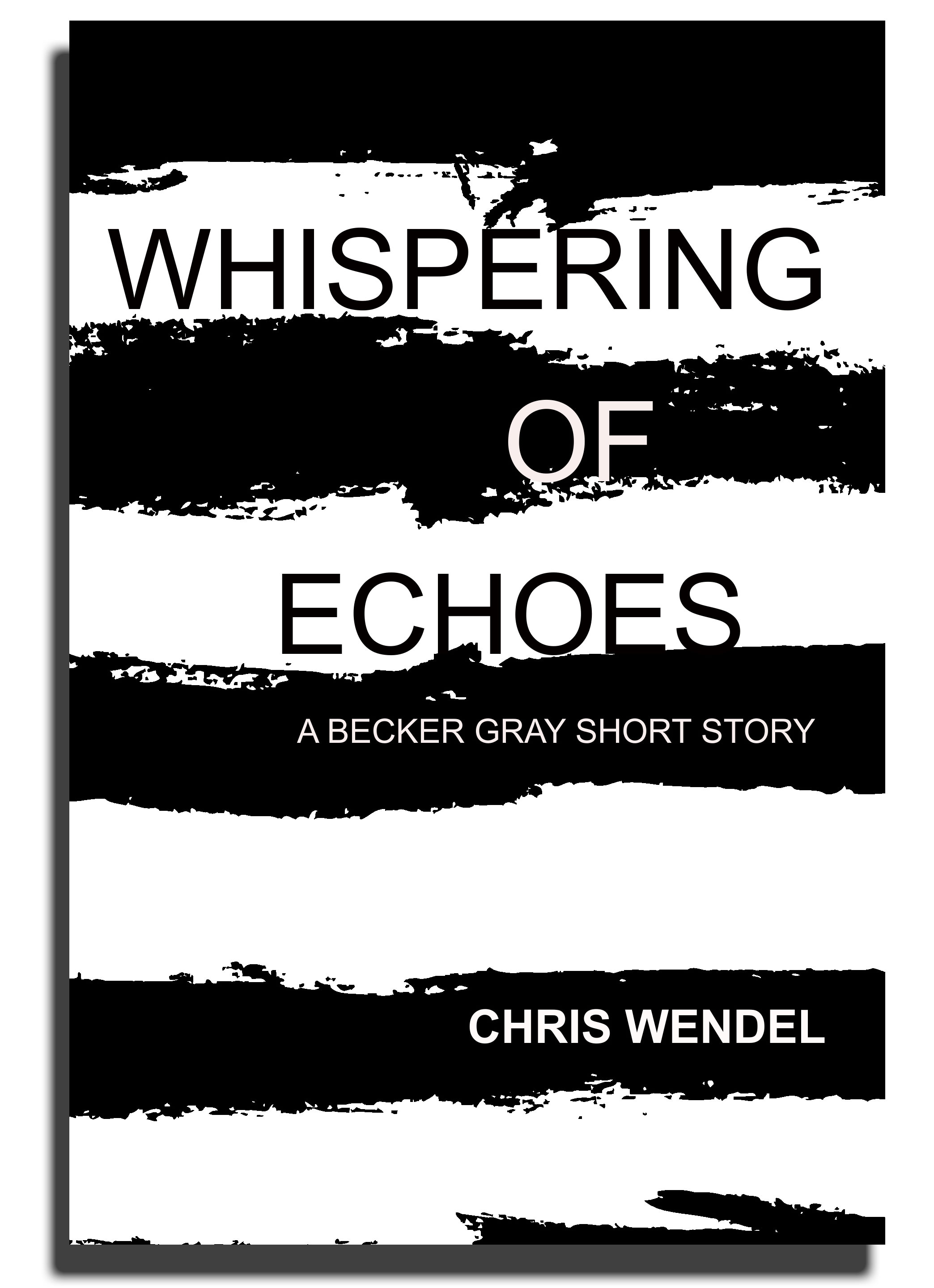 PROTECT YOUR PRIVACY.
As a serial rapist who controls his victims via their social media presence strikes again, Det. Becker Gray must convince a victim who never reported the crime to come forward and help with the investigation.
If she faces her past and agrees to help, the world she's built could crumble and her secret will be revealed.
Never one to attack an investigation from only a single angle, Gray bends the rules to kick off a cold case investigation that ultimately leads to the department's past corruption.
P
BOOK CLUBS
Discussion questions for WHISPERING OF ECHOES
Buy Now
Autographed Copy
Paperback & eBook

eBook is available exclusively at Amazon – Free to Kindle Unlimited members.
P
WATCH THE TRAILER
p
---
P
– HUMAN AFTER ALL –
OUR FEARS BECOME OUR MONSTERS.
Solo Medalist Winner  in the 

New Apple Literary 2017 Summer eBook Awards' Suspense/Thriller category.


p


Prologue Pre-Release| Listen to an Excerpt
Every day for Becker Gray is a struggle to keep himself from collapse, and the best way he's discovered to do that is to hide from his past, his guilt, and his pain. He's been known to over think, over drink, and under sleep. His job as a detective in the major crimes division affords him the luxury of keeping his mind off his tragic personal life, being too busy to drink, and making good use of the time he's not sleeping. And this kidnapping case is another great opportunity to avoid his life.
That is, until he identifies too much with the victim.
Valerie Hardy was terrorized as a child. As a result, her protective parents forced her into an existence of isolation and detachment — just as Gray had framed his own life. When the man returns after ten years to terrorize Valerie again by abducting her, Gray must figure out what's happened before the kidnapper fulfills his promise to kill her. Yet, in the process, Gray collapses, losing control of himself and, briefly, even reality. Worse, during his lapse of self control, the sadistic kidnapper turns his wicked attention to Gray.
In his debut novel, Chris Wendel weaves a fast-paced thriller in the style of James Patterson with the heart and character of a Harlan Coben novel. Full of intrigue, suspense, and mystery, Human After All is a page-turning tale that will leave you wanting more Becker Gray adventures.
P
BOOK CLUBS
Discussion questions for HUMAN AFTER ALL
P
READER PRAISE
– "I loved the creative and strong characters and plots that continued to build with tension and shock and surprise." –

– "Although there are some familiar themes and tropes at play, Chris Wendel brings a fresh attitude and literary style and makes it all his own and doesn't just follow the same old formula that we always see." –

– "It was more intense than I expected it would be." –
PPP
Buy Now
Autographed Copy
Audio Book
Paperback
eBook
p
MORE REVIEWS
View Full Reviews: GoodReads
– "I loved the creative and strong characters and plots that continued to build with tension and shock and surprise." –
– "Although there are some familiar themes and tropes at play, Chris Wendel brings a fresh attitude and literary style and makes it all his own and doesn't just follow the same old formula that we always see." –
– "It was more intense than I expected it would be." –
– "At first I worried that because this is part of a series and I hate when books end on cliffhanger and the next isn't published yet, but that's not the case here at all and it works fine as a standalone book and wraps up well." –
– "I'm rarely surprised by anything anymore but I can say that this author managed to do it (more than once!!)." –
– "I could not put this book down." –
– ""Human after All" by author Chris Wendel is one of the most interesting, fun, creepy, and just flat-out addicting thriller/ mystery novels I've read in so long." –
– "I absolutely loved the book." –
– "The chapters are short and brisk, so you keep wanting to read 'just one more'… and another and another." –
– "I appreciated the quick rhythm of the character dialogue and the descriptive details that really brought the story to life." –
– "The ending was crazy (and heartwarming) and definitely a book worth reading." –
– "This energetically gripping novel is fast-paced and had my attention from start to finish." –
– "While remaining firmly within the confines of the 'mystery/thriller/suspense' genre I like that Wendel wasn't afraid to think outside the box on occasion and it has a dark edginess that I really liked, even when unnerving." –
– "Makes me want to read more in this series when it comes out as Wendel is truly a gifted storyteller AND writer (not necessarily the same thing…)." –
– "Amazing that a first novel can rivet this old, experienced reader as much as this one did." –

– "I wanted to let you know that I finished Human After All. I really enjoyed the read. Dark thrillers are one of my favorite types of books and this one didn't disappoint. Once I got started I didn't want to put it down. Even causing me to stay up too late on work nights(4 am comes early). – J. Hicks
---
P
Business
– CONVERTING CUSTOMERS TO CLIENTS –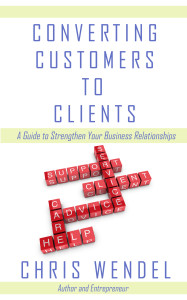 PERFECT FOR SMALL AND MEDIUM BUSINESS OWNERS AND STAFF.
CONVERT ONE-TIME CUSTOMERS INTO LONG-TERM CLIENTS.
Excerpts: Who Should Read This Book | Introduction
P
CONVERTING CUSTOMERS TO CLIENTS discusses various ways a business person can initiate, build, and maintain strong business relationships. As a small business owner for a decade, Chris was able to work with many business owners. He was able to connect to them and develop strong relationships. When he sold his business in 2012, he wrote down the philosophies he used to make his company successful, as well as incorporated the hundreds of conversations he had with other business owners about the same topic. Available in eBook and paperback.
... AVAILABLE NOW ...

P

P

P

P
---
P
– ON STRENGTHENING BUSINESS RELATIONSHIPS –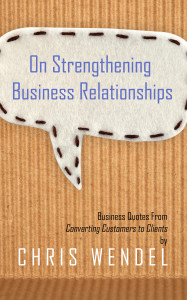 IF YOU LIKE QUOTES THAT GET TO THE HEART OF THE MATTER, PICK THIS ONE UP.
LEARN TO MAKE CUSTOMERS INTO CLIENTS THROUGH DIRECT QUOTES ON THE SUBJECT.
P
This is a book of inspiring quotes on business relationships from entrepreneur Chris Wendel. It's titled ON STRENGTHENING BUSINESS RELATIONSHIPS. Available in eBook and paperback.
... AVAILABLE NOW ...
P
P
P
UNFINISHED contains incomplete poems written by author Chris Wendel between October 2012 and October 2013. In journal-format, you title the poems, you take what was started/prompted by Chris' writings and finish them. There is space in the book to complete each poem. Just write in in the book! Make any ending you want out of the poems: poem, story, song, etc. Take a picture, video it, record it, whatever. Upload it to Facebook and share it with everyone. The book is only available in paperback, to keep the journal-type theme of the book. Available in paperback.
... AVAILABLE NOW ...